OUR TRACKMAN COMPETITIONS
HAVE YOU GOT WHAT IT TAKES TO TOP THE LEADERBOARD?
Every month we will be running a bullseye competition and if you finish within the top 5, you will be invited to our GRAND FINAL in December to win BIG prizes.
Top the leaderboard in the month and you will win a VIP bay for 4!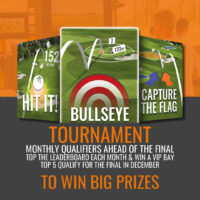 WHAT IS BULLSEYE
Each player has three shots per round. Points are awarded based on distance to the pin & the player with the most points wins!
Don't worry if you don't hit the target, you still get rewarded for near misses…. But the closer you go, the more points you earn.
1. DOWNLOAD & REGISTER
Download the TrackMan Golf App & create your player profile
2. SCAN THE QR TO LOG IN
Log in by scanning
the QR code on the
TrackMan screen
at your bay
3. PLAY BULLSEYE
Follow the prompts on the screen
SELECT 'TOURNAMENTS'
SELECT '(MONTH) BULLSEYE'
ADD 'PLAYER'
SELECT 'CONTINUE'
YOU ARE NOW READY TO PLAY!
COMPETITION FORMAT & RULES
YOU MUST BE SIGNED IN TO ENTER
COMPLETE 3 ROUNDS OF BULLSEYE
YOU CAN ONLY WIN ONCE A MONTH
NO MEMBER OF STAFF WILL BE ALLOWED TO WIN THE COMPETITION
DON'T WORRY ABOUT YOUR SCORE, IT GETS RECORDED AT OUR SCORERS OFFICE.